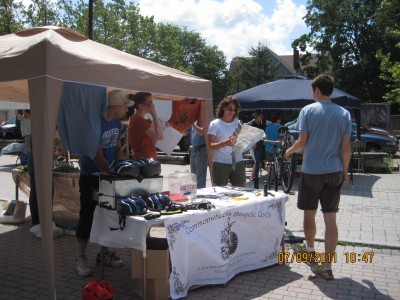 Hey gorgeous CWers!  Our event calendar is heating up with amazingly fun bike-related activities, we have to stop and tell you what we've been up to.  Our first table at the Union Square Farmers Market in Allston yesterday was met with great success!  We really enjoyed getting in touch with the fabulous people of Allston-Brighton and talking shop.  Most importantly, we kept some of your heads safe with our helmet program, a generous result of the collaboration between A-Bbikes and The Parents & Community Build Group Inc.  It was pretty rad watching one young biker get googly-eyed by CWer Chris as she fitted him with various helmets, only to speed away with one bad ass skull helmet. If you missed us at the market we'll be back at the next one, or come hang out with us Tuesday at our weekly Open House.
Tonight is our first ride in our Commonwheels Summah Ride Series – Walden Pond.  Meet us at 3pm at the shop.  Bring sunscreen, water, giggles and lights!  Next Sunday  we'll take it easy  with a fun trip to  Castle Island.
Summer is in full swing and so are we – here is a recap of our July events so put them on your calendar kid!
Tonight:  Walden Pond Ride
July 12:  Open House 6-9 @ the shop
July 17:  Castle Island Ride 3pm
July 19:  Open House 6-9 @ the shop
July 24:  Emerald Necklace Ride/Rooftop BBQ
July 26:  Open House 6-9 @ the shop
July 29:  Bike to Work Fridays stop by our table!!
July 31:  Ride Series, destination: TBD.  Where do YOU want to go?  Leave suggestions by commenting.
We also are pinning down the date for our rain delayed bike-in movie, Pee-Wee's Big Adventure.  You know you're excited about that one 🙂 That will most likely happen end of July so keep checking back.
Be safe, wear a helmet, and see you on the road!