Commonwheels Bicycle Co-Op will be moving our operations away from Rugg Road and reorganizing over the next few months — call it an "off" season.
Since the deal was made to take a wrecking ball to our humble space, we at Commonwheels have been rethinking our programming, our tool access, and our overall goals as a community resource.  After paring down our Tuesday Open Shops and bike donations over the course of December, we are now looking to simultaneously mobilize and hunker down while the thermostat dips lower and lower.  The long and short is: we need to move all our bikes and parts, and we need to plan out our programs for the Biking Year 2012.  So we'll be taking the next few months to relocate physically, and to become more involved in community events and community centers around the city where we can host events come springtime.  Once the weather loosens its icy grip on all that is good and green and alive in this fair city, we shall be ready to reopen our tool times, group rides, classes and workshops, and generally awesome activities.  Call it: "In anticipation of Spring."
But we did have an amazing 2011.  By following a course of "come what may," Commonwheels started as a concept — with a bunch of scrappy bike advocates who simply wanted to do "more."  And by giving the newly dubbed Commonwheelers a few resources (a wrench and some lube, a place to set up a portable stand next to the BBQ, a connection or two in Boston's bike scene, a social web to attract riders) "more" turned out to be a lot: weekly open shops that spilled out into the parking lot, monthly rides to swimming holes all around the Hub, farmers markets with fresh veggies and tune-ups, bike donations at local health clinics, alley cat after parties, music shows and Pee Wee Herman movies and bike-powered smoothies.  The list goes on.  And will continue to go on, as we gear up for Biking Season 2012.  It's all about cadence. (And balance.)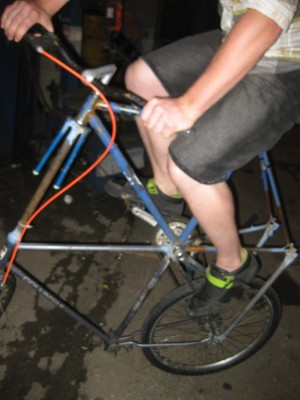 We couldn't have done any of this without the interest, support, and enthusiasm of our community — including our business partners and raffle supporters, but more so from the people who got involved on a personal level.  We mingled and mixed a wide range of bikers this past season, from all sorts of places.  We were amazed at the variety and diversity of ages, genders, ethnicities, economic and employment backgrounds, relations everyone had with their ride and their neighborhood and their city.  It was apparent based simply on what bikes people rode over.  Everyone who came and participated brought something to Commonwheels (besides a bike that needed some loving), something only they could have had, and shared it with the rest of the community, and the mix that brewed was something truly special.  And for that, we thank you all!
And thanks for all the Fun!  For all the reasons that we ride (it's quick, cheap, green, fit, energizing, independent, easy, relaxing, sexy…) the number one always seems to be "Because it's FUN!"  We love how that comes back to us, again and again.  And by bringing everyone together at Commonwheels, we simply had a blast this year.
So look for us to keep momentum going when we roll out again in the Spring, when we'll have a new location, a new calendar, new tools, new rides, and an expanded batch of CWers.
From all of us and for all of you, a special thanks from Commonwheels.
-CW