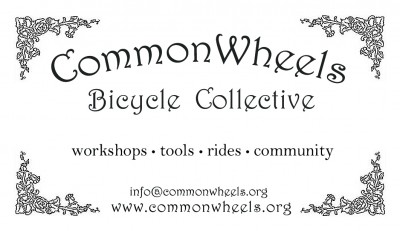 Hey Hey, an Update!
After a lovely off-season of mild winter weather, world travel, and many side projects, CommonWheels is now up and moving again, and are looking to gear up and hit the ground spinning come the first of April!
Changing our operations from last year, we are planning on a programs-based season; meaning we'll have workshops twice a month, rides once a month, monthly youth programs and bike giveaways, and of course weekly CommonTools.  Yet as our grungy artsy space at Rugg Road is awaiting the reckoning of a wrecking ball, we are going to be bringing the tools and programs out into the neighborhood!  We have yet to iron out all the locations (looking into city parks and community centers, bike shops, and friendly cafe) and dates/times, but keep an eye to the blog for updates.  Coming soon: a calendar!  Possibly compatible with your google!
Also, we were pleased to partake in the 4th annual Boston Bikes Update, with so many fellow organizations that are working hard to make a better bicycling environment in our fair city.  If you missed the event, a great write up was provided by The Humble Cyclist .  The jist is, the City has done a lot last year, with a lot of help.  And we're going to do so much more this year, with even more help!
At CommonWheels we do promise much more content and events in the weeks to come, but know we are still out there riding strong, and we want you to be there riding with us.
Sincerely,
Your Friendly Bicycle Collective, CommonWheels