Saturday, September 8th, CommonWheels is heading out across the river and over the woods to visit the lovely city of Somerville and their awesome arts union as they host "Spokes 2012." There will be maintenance workshops, bike vendors, activism/advocacy groups, and (best of all) a FREE SHOWING OF PEE WEE'S BIG ADVENTURE — the GREATEST bicycle movie of all time!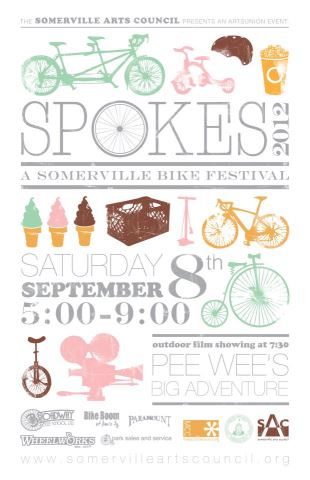 check it: http://www.somervilleartscouncil.org/artsunion/2012/spokes
We're leaving Allston at 2pm on a mini group ride to cruise our way to Union Sq in Somerville, getting there for the 2:30pm start, and some of us will be joining up with their "Tasting Tour of Somerville" ride. (more info on that: https://www.facebook.com/events/448226095198600/).  Others of us will do our own ride around town.
To find us, meet at Jackson Mann school, corner of Brighton Ave and Cambridge Street in Allston, 2pm.  Map of route soon to come.
see you there.
so excited!