We're looking for two passionate, self-directed people: 
Event Coordinator:
CW is seeking an outgoing and organized person to manage Open Shops. This is a part-time, seasonal position for someone who wants to make a difference in their bike community and will take initiative, engage others, and promote our mission. Compensation is $15-18/hr
Mechanic/Bike Educator:
CW is seeking an experienced bike mechanic to staff Open Shops in partnership with the Event Coordinator. This is a part-time, seasonal position for someone who wants to empower every biker on the street to become their own mechanic. Compensation is $20/hr
Read the Full Descriptions at www.commonwheels.org/jobs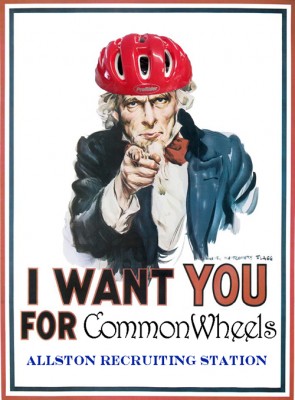 CommonWheels is Looking for Board Members!
The CommonWheels Board serves as the backbone for all of our programs, keeping the organization running smoothly administratively, planning events and programs, and pitching in as volunteers on the ground. Board members play a brainstorming, fundraising, and leadership role to make our programs happen.
CW is excited to expand our Board and bring in people with new and diverse ideas about how to bring to life our mission "to empower people to use the bicycle to enhance their lives."
To join CW for the 2014 season, please send an email to info@commonweels.org with the subject "Events Coordinator", "Mechanic", or "Board"
…and Stay Tuned for an ALLSTON BIKE SOCIAL coming up at the end of the month!