There are a few really great bike events happening this weekend.  If you haven't heard about these yet, you'll be glad you looked us up!  We've got the magic of the movies and a bit of autumnal bliss.
Saturday is the 7th annual Boston Bike Film Fest, hosted at the Brattle Theater.  These are always great explorations into the many worlds of cycling in Boston.  The event starts at 7pm, and there's also an accompanying ride earlier in the afternoon "exploring sites of films made in Boston.  We'll check out old favorites such as The Departed and Good Will Hunting, and new films just released such as I Don't Know How She Does It and I've Got Your Number.  Ticket holders ride for free, so ask for info when you buy your ticket online!  Or simply bring your receipt with you to Urban Adventours, our ride hosts.  Ride starts at 3 p.m. and ends at the Brattle."

and Sunday is the 3rd annual Tweed Ride — a casual and fashionable ride that leaves from the Frog Pond at the Boston Common around 10am.  "Bring food and supplies as we will be picnicking at Franklin Park before returning back to the Commons. As always this is a family friendly event, vintage bicycles are not required but dressing up is encouraged:tweed jackets, woolen knickers, dress shoes, bow ties, lace gloves, sun hats and the like. Helmets are not required but encouraged."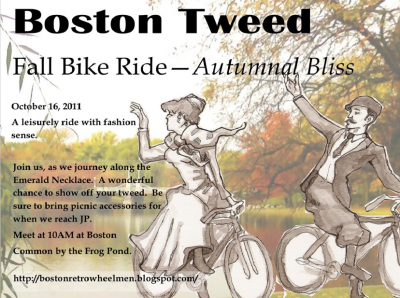 Have fun out there this weekend folks!